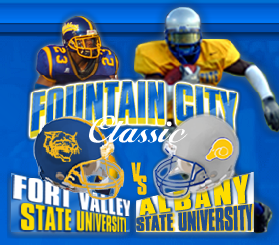 Phone:
(706) 324-4080

5415651193-0924.221125
20180924221125
Fountain City Classic Tailgating
Thursday, November 1st - Early Bird Check-in (3:00 PM to 6:00 PM)
Friday, November 2nd - Check-in (Starting at 8:00 AM)
Saturday, November 3rd - Check-in (Starting at 7:00 AM)



Tailgating Reservations End on October 28th, 2018 at Midnight



2018 Fountain City Classic, Inc. - Tailgating Rules and Disclaimer
---
Fountain City Classic Committee

---
1151 Britt Ave.
Columbus, GA 31906
Phone (706) 324-4080
Fax (706) 324-4082

The Fountain City Classic, Inc. tailgating policy is intended to provide everyone with an enjoyable and safe environment while attending Fountain City Classic football games. The Fountain City Classic in conjunction with the Columbus Police Department hopes that you will enjoy yourself, while respecting the rights of others. These rules are intended to be general guidelines.


FCC reserves the right to modify these at any time for the safety and effective administration of the event
Tailgating will be located in LOTS - D, E, F, G and grassy areas for a fee. Tailgaters must agree to this disclaimer and present a paid receipt from Paypal before being allowed to enter.Fountain City Classic, Inc. has the right to refuse service to anyone.
Once vehicles leave tailgating area on Saturday morning, November 3rd, re-entry WILL NOT be permitted.
All groups and individuals participating in tailgating are responsible for the proper collection and disposal of their trash, as well as, other debris such as charcoal. Trash containers will be provided throughout tailgate areas.
Grassy areas may be purchased on line. You will choose your space on day of set-up. Parking space does not come with the purchase of grassy area.
LUMPKIN BLVD WILL BE CLOSED AT 11:00 AM SATURDAY MORNING, November 3, 2018!!! Tailgaters will not be able to enter Lumpkin Blvd after 11:00 AM on Saturday. Parking will be available in the front parking lot of Civic Center for $5.00. Please try to get all heavy items (Large Coolers, Large Grills, Tents, etc...) in tailgating area before 11:00 AM Saturday.
No food may be sold without a proper FCC vending permit. NO FOOD will be sold in tailgating areas.
USE OF MOTORIZED RECREATIONAL VEHICLES, INCLUDING FOUR-WHEELERS, MOTOR BIKES, BIKES, GOLF CARTS, HORSES, SCOOTERS, MOTORIZED SKATEBOARDS, ETC., IS PROHIBITED IN TAILGATE AREA.
SITE SETUP MAY BEGIN NO EARLIER THAN 3:00 PM ON "SET-UP DAY", THURSDAY, NOVEMBER 1st AND ENDS AT 6 PM. ONLY TAILGATERS THAT REGISTER AND PAY ON LINE WILL BE ALLOWED TO "SET-UP" ON THURSDAY. NO TAILGATING SPACES CAN BE PURCHASED ON THURSDAY, NOVEMBER 1, 2018. TAILGATING SPACE WILL RESUME ON FRIDAY AT 8:00 AM AND MUST BE CLEARED AND CLEANED BY 8:00 PM ON SATURDAY, NOVEMBER 3rd, OR 2 HOURS AFTER THE GAME, WHICHEVER IS LATER. CLAIMING TAILGATE AREAS PRIOR TO "SET-UP DAY" IS PROHIBITED
PLEASE DO NOT REMOVE PORTABLE TOILET FROM ASSIGNED AREAS.
FCC EXCLUSIVE VENDOR ANNOUNCEMENT
---
FCC chooses Advanced Disposal Exclusively for our port-a-potty's. Advanced Disposal will be the ONLY portable potty's allowed at FCC Tailgating. Contact them directly to reserve your onsite potty!

Reservations must be secured no later than October 26, 2018 to ensure availability of unit(s).
Delivery will be on Friday, Nov. 2 only, starting at 8am.

Pricing before October 1 - $80. Pricing on or after October 1 - $100

www.advanceddisposal.com
Office 706-332-5707
Disclaimer
---
There is an assumption of risk that spectators of sporting events observe when attending such events. By signing below, I choose to assume liability for my participation in this activity.
I Agree | I Disagree